Compressed air & air treatment Morocco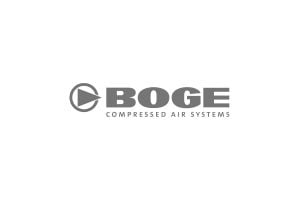 BOGE compressors at Renovpack
BOGE compressor is a high quality german product. For more than 110 years, BOGE has provided high-quality solutions for industrial compressed air systems. The company produces a full range of oil-lubricated and oil-free industrial compressors. Besides, it offers screw and piston compressors from 1 to 480 HP.
COMPRESSED AIR & AIR TREATMENT
BOGE Kompressoren offers a wide range of industrial compressors and compressed air systems, screw and piston compressors with or without oil, scroll and turbo compressors, accessories for the treatment of compressed air, control and heat recovery as well as personalized special solutions. An extensive range of support and maintenance programs complements the BOGE range, providing thus to its customers in Morocco clean and reliable compressed air production for over 110 years
BOGE, a family business based in Bielefeld-Germany, has always engaged itself to provide high performance compressors of the best quality. In fact, the trust placed in it by over 100,000 users in more than 120 countries is an undeniable proof of its professionalism.
Download our catalogue